Rental

accommodation for bike tour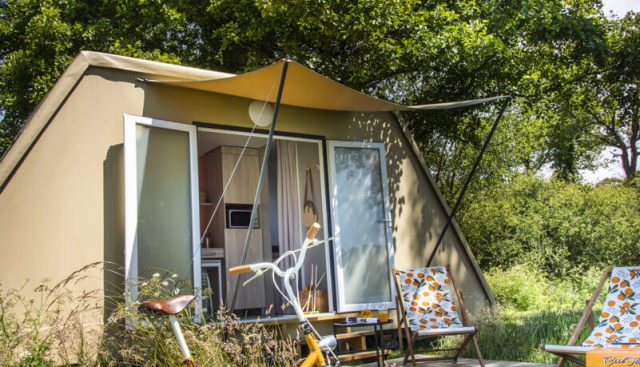 Find the perfect accommodation for your cycling holiday
Passionate about cycling, the spirit of adventure, and being immersed in nature; why not try bicycle touring? Cycling holidays are back, and they're riding the trend for slower, more local, tourism. The era of hectic holidays is over; instead, we want to slow down, enjoy the scenery, get away from it all, pedal, and see new places.
Another clear benefit… Cycling is a great way of exercising without even realising!
Prepare for your weekend cycle getaway
Whether you opt for a weekend break or a week-long holiday, cycling is accessible to everyone, from families to groups of friends. There's no need to go far or chooseovercomplicated cycle routes. However, some planning is needed before you set off. Choose the right equipment, study the network of cycle tracks; there are many websites out there to help you: France Vélo Tourisme, EuroVélo, Provélo, le Routard à vélo… But one question remains: where to stay on your cycling holiday?
Rental accommodation for your cycling holiday
If you're dreaming of a green getaway, there's no better way of continuing your cycle adventure than by camping. Discover Coco, the perfect holiday rental to return to after a hard day exploring the cycle trails. As comfortable as a tent, with all the privacy of a mobile home, there's no need to pitch your Coco when you arrive – it's ready and waiting for you! Enjoy an evening unwinding in comfort in the sheltered table area, before retiring to a proper bed!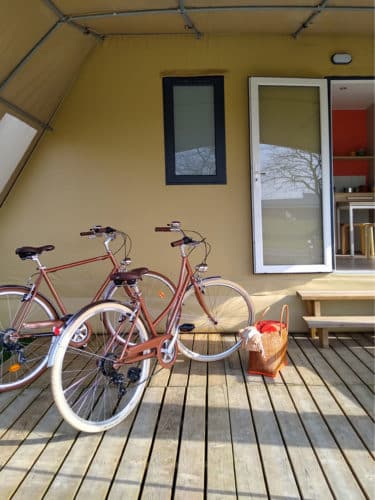 Campsites: the perfect destination for bicycle tourers
Whether you want to escape to the coast, the country, the mountains, or even abroad, make the most of the cycle tracks, long distance cycle routes and bicycle touring itineraries in France and all over Europe! Many campsites have Cocos to rent, ready and waiting to welcome campers.
From the Vélomaritime to the Vélodysée on the Atlantic Coast, the Loire valley cycle route and the Mediterranean cycle trail – you will find Coco Sweet accommodation for cyclists all along your route.There's a Coco waiting for you at over 500 destinations. Explore the interactive map on the Coco Website and find your perfect site now! By choosing the perfect campsite for your cycling holiday, you combine comfort with pleasure!
Camping is a great way to meet people, an opportunity to share your experience with other cycle tourers,or simply take advantage of the on-site facilities.

Accueil Vélo is a national brand that guarantees a
reception and quality services along the cycling routes for cyclists.
Interested in renting a Coco Sweet for your next cycling or mountain biking break? Then get in the saddle and book your holiday rental now at over 500 destinations.
Our latest destinations
Camping

AIROTEL LA PLAGE

17590 ST CLÉMENT DES BALEINES

France

Camping

AMETZA

64700 HENDAYE

France

Camping

ARENA

64500 SAINT-JEAN-DE-LUZ

France

Camping

AU BOIS DORMANT

19500 CHAUFFOUR-SUR-VELL

Belgique

Camping

Camping

AU BORD DE L'OURTHE

4140 SPRIMONT