Alternative mobile home rental
Alpes Maritimes
Rent your quirky mobile home on one of our campsites in the Alpes Maritimes
Discover the joys of outdoor accommodation and camping holidays. Hiring a mobile home in the Alpes Maritimes is a great way to enjoy top-quality accommodation. New and improved options become available every single day. But one of the hottest trends around is hiring a mobile home for a camping trip to the Alpes Maritimes. A cross between a tent and a mobile home, Coco offers alternative, quirky accommodation and ultimate comfort, for a fun holiday with friends or family spent close to nature.
Why choose Coco Sweet for your holiday or weekend on a quirky campsite in the Alpes Maritimes?
The benefits of hiring Coco Sweet in the Alpes Maritimes
Give in to the temptation of a hired mobile home on a campsite in the Alpes Maritimes. A truly quirky little home, Coco Sweet offers all the comfort and security of a mobile home, whilst retaining the spirit of a fun camping holiday close to nature: with living and kitchen areas, bedrooms, toilets and bathrooms (in some models), a spacious terrace, awning and more, you'll be able to prepare meals and share fun holiday experiences with both friends and family. Whether you're looking for a long holiday, a short stay, or just a weekend away, hiring a mobile home in the Alpes Maritimes is a great way to enjoy campsites rated 2, 3, 4 or even 5 stars.
Mobile home hire is offered by a number of campsites in the Alpes Maritimes, along with all sorts of facilities: from outdoor pools or covered and heated water parks, to children's playgrounds, restaurants, food shops and activities for both children and adults, not to mention themed evening entertainment. Wherever you're headed in the Alpes Maritimes, be it to the mountains, the seaside, a lake or the open countryside, experience a hired Coco mobile home for yourself and enjoy quirky, comfortable and on-trend accommodation close to nature – perfect for spending time with your friends and family.
2 results
France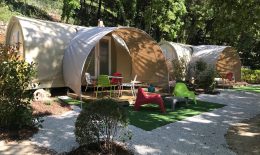 Camping

LES PINEDES

06480 LA COLLE SUR LOUP
France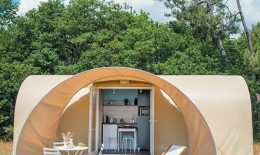 Camping

LE TEMPLIERS

06450 ROQUEBILLIÈRE
Why you should rent a mobile home on a campsite
Renting a mobile home on a campsite is guaranteed to be an unforgettable holiday. With its innovative design, Coco means you can enjoy a unique stay, immersed in nature, while having all the site amenities close at hand. From the pool, to the sports pitches, to the restaurant, have fun with family and friends without even leaving the site. Travelling with children? Campsites are a great place to meet new people! Give them a holiday to remember and let them enjoy the facilities with their new friends, in a completely safe environment. Or why not make the most of the entertainment and trips offered by your campsite? Renting a unique mobile home is a great way of enjoying a fun and relaxing break at an affordable price.
Why you should choose Coco for your next camping trip
Robinson Crusoe's hut, an explorer's tent… Coco will spark the imaginations of children, while reassuring grown-ups! Enjoy all the comforts of a mobile home, with a large door opening onto the outdoor area. Kitchenette, storage, hotel-quality bedding, blackout curtains… Coco has been designed to guarantee you a restful stay. It also features a covered terrace – the perfect place to enjoy breakfasts, dinners, and memorable evenings.
Whether travelling as a family or with friends, in France or elsewhere, Coco will win the hearts of nature lovers in search of adventure, as well as those simply looking for relaxation and simplicity. No need to pitch your Coco when you arrive – it will be ready and waiting for you. So why wait? Book your unique mobile home rental now! Discover your next destination today!
Unusual mobile home rental in the most beautiful cities of Alpes Maritimes